Dutch Brews and Beds – Beery overnight stays in the Netherlands
It is widely acknowledged that hops help you sleep. Putting that to the test, the number of places in the Netherlands to drink good beer and stay overnight has exploded…
It is widely acknowledged that hops help you sleep. Putting that to the test, the number of places in the Netherlands to drink good beer and stay overnight has exploded in recent years, from camping in a fort brewery to boutique B&B rooms in gleaming new brewpubs. Here are just a few suggestions for places to try.
Brouwhotel Parkzicht – Veendam
For many years, the quiet town of Veendam, tucked away in the northeast Netherlands, passed under most people's radar, overshadowed as it was by its rambunctious near-neighbour Groningen. That changed in 2018, when Brouwhotel Parkzicht in the town centre acquired two distinctive glass brewing vessels from the former Graaf van Heumen brewery, and began producing its own Bogdike beer range.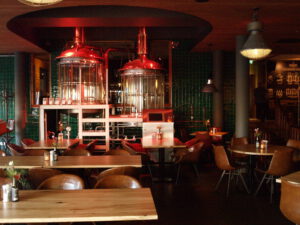 You can try those beers (named, incidentally, for a local cultural society, and pronounced as in English) in the hotels sprawling complex of ground floor bars and dining rooms, or on the leafy terrace out front.
For a cultural diversion while in town, Veenkoloniaal Museum next door to the hotel tells the story of the Groningen Peat Colonies ('veen' is the Dutch word for peat bog): peat digging once took place in the area and was transported via the regional canal network aboard barges.
Erve Kots – Lievelde
For history in a hostelry head to Lievelde, a tiny hamlet deep in the rural Achterhoek, the largely rural so-called 'Back Corner' of the Netherlands that lies east of Arnhem and is enclosed on two sides by Germany.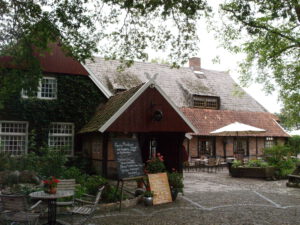 The Erve Kots farmhouse gained notoriety in 1627 when was used by Frederik Hendrik – Prince of Orange, Stadtholder of the Dutch Republic, and a hero of the 80 Years War – as a headquarters during the siege and eventual capture of nearby Grol (now Groenlo) from occupying Spanish forces.
In more recent times, Erve Kots became a popular open-air museum, featuring old buildings from across the nation, reconstructed here in their original state. Besides the museum, there is an inn with comfortable rooms, and a restaurant and pancake house. Walking into the latter is like being transported back to the Middle Ages, as the evocatively restored interior has oak-beamed ceilings, brick floors and – inevitably – a fireplace to sit around and contemplate life with a beer from the Brouwhoes Achterhoek brewery, located just across the courtyard.
The brewery now forms part of the 'Bier Experience', an audio-visual interactive journey through the brewing process, with themed tasks to keep your brain exercised before you reach the tasting room at the end.
Herberg De Zwarte Ruiter – Gulpen
Continuing the tour of the Netherlands' geographical extremities, Gulpen is about as far south as you can go without spilling across into Belgium. It's an attractive place with a small river gushing through its heart, but is perhaps most famous for being, since 1825, home to one of the Netherlands' largest independent brewers.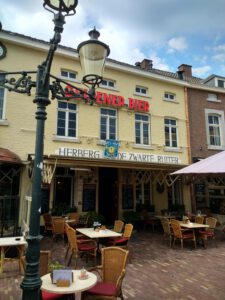 Before Gulpener opened its shiny new Brouwlokaal taproom next door, the Zwarte Ruiter ('Black Knight') was its unofficial tap. The café is named after an old Maastricht brewery that closed in the 1950s, and was the original producer of Mestreechs Aajt ('Maastrichts Old'). Gulpener resurrected this famous old ale recipe at this location in 1991, and the café remains the best place to sample it. The darkly moreish brew gains characterful sweet 'n' sour tones from being matured for 12 months in huge oak vats that are visible from the bar.
Just in case you needed more reminding of where you were staying, the Zwarte Ruiter's hotel rooms have beer-themed names instead of numbers.
Slot Oostende – Goes
Almost as far west as Gulpen is south, is the Zeeland settlement of Goes. The town's oldest building, Slot Oostende ('Oostende Castle', named not for the Belgian port but for a now-submerged village nearby) began life in the 13th century, but this is a little deceiving. Until a decade ago it was in ruins and a Greek restaurant stood on the site.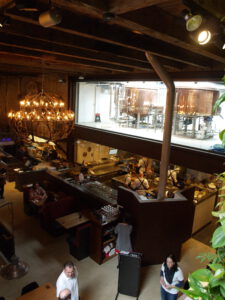 Noting this, the reconstruction work that took place in the mid-2010s did not try to recreate an old-style medieval palace. While the magnificent vaulted cellars are authentic, the rest is a gloriously interwoven mish-mash of ancient and modern, with a central restaurant and a gleaming brewery on a mezzanine above the bar. It's the perfect place to enjoy the house Slot Oostende brews, and also the Emelisse range that's been made here since that brewery closed in 2016.
The hotel rooms are not in the castle, but are spread around several neighbouring buildings. Needless to say, they too represent a seamless blend of ultra-new with a timeless past.
Pension Homeland – Amsterdam
Not to be outdone, but somewhat more on the well-trodden tourist trail, Amsterdam also has a brewery hotel. Opened in 2016, Homeland's site is steeped in Dutch maritime history. It was once a naval base, and the hotel was the officers' mess. Reflecting the building's age, the interior – public areas and guest rooms – are all decorated with a retro 1960s vibe. Brouwerij Homeland brewery was originally found at the back of the hotel restaurant, but the need to increase capacity to meet demand meant it has now relocated to another building 100 metres to the north.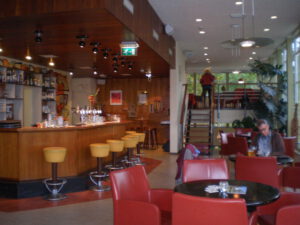 If you want to dig further into the maritime side of things, visit the Dutch National Maritime Museum next door. If nothing else, when sitting on the hotel's harbourside terrace you won't be able to miss the imposing hulk of the museum's prime exhibit: a replica of the 1749 Dutch East India Company tall ship Amsterdam.
3B – Sneek
North again, this time in Friesland, the provincial town of Sneek is perhaps best known for its highly photogenic Waterpoort, a canal-straddling city gate built in 1492. But an arguably bigger draw for weary beer lovers looking for somewhere to lay their head is 3B. Those three Bs stand for Beer, Bed and Breakfast, providing a clue as to what to expect. It's a spacious café with well-appointed hotel rooms at the back.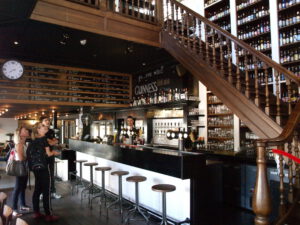 OK, so this is one place that doesn't have its own brewery, but the décor and beer list more than compensate. The former is dominated by a large wooden staircase leading up to a mezzanine and backed by a wall of beer bottles. The latter has 25 tap offerings and more than 200 bottled and canned brews, including many from hard-to-find local microbrewers.
If you still want to include a brewery visit while in Sneek, you're also only a five-minute walk from Grand Café De Walrus, on the first floor of which is the Stadsbrouwerij Sneek nanobrewery.
 Fort Everdingen – Everdingen
Of course, overnight beer stays don't have to be about bricks and mortar. Camping beer enthusiasts can't go wrong at Fort Everdingen, near the town of Culemborg. The fort was constructed in the 1840s as part of the New Dutch Waterline defensive network, conceived to protect Amsterdam and Utrecht from (at that time) threats from France.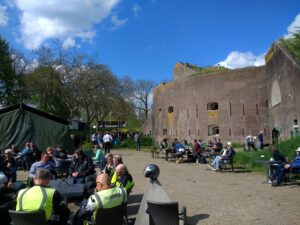 As well as being a historical monument with a campsite, the fort has since 2015 been home to the Duits & Lauret brewery. Its tasting room and brewing kit are located in a wooden engineering shed beside the imposing main fortress building, where house beers are poured from tap and bottle.
Incidentally, geography geeks (I'm sure there are some out there) will be delighted to know the fort straddles a provincial border, with the brewery (just) in Utrecht, and most of the campsite – which spreads along and atop the thick defensive walls – lies in Gelderland. Rest assured you won't need a passport to visit the taproom from your tent!
For more suggestions like these, check out my book Beer in the Netherlands 2, available here