Pub crawls – something for everyone
This weekend, Eindhoven – like other cities, towns and villages across the south and east of the Netherlands – is celebrating Carnaval. Despite the rain hammering on my window as…
This weekend, Eindhoven – like other cities, towns and villages across the south and east of the Netherlands – is celebrating Carnaval. Despite the rain hammering on my window as I type and the cancellation of yesterday's parade, thousands of otherwise sensible people are throwing off the conventional rules of normal behaviour and getting legless on pilsner drunk in unnatural quantities. It's a time to bond with old friends and strangers, all the while sporting brightly coloured fancy dress costumes, some of which will have been laboriously hand-crafted over the preceding months.
Like other Mardi Gras festivals around the world, Carnaval has its roots in pre-Lent Catholicism, but the religious aspects got lost somewhere in time. Nowadays it's just one big excuse to let your hair down and party hard for four or five days.
When we first moved to Eindhoven 30 years ago, my wife Amanda and I happily joined in. We bought off-the-peg costumes and were willing participants. In those days it was not so different from what we did on a regular Friday evening: heading down Stratumseind – Eindhoven's infamous pub street, a.k.a. the 'Strat' – to quaff copious amounts of pils, or drinking probably too much Duvel in The Little One or the Café Centraal.
But during Carnaval even 'standard' beers like Duvel were unavailable. And that remains the case today when many bars suspend sales of their decent brews and place them safely out of reach whilst the long weekend of revelry plays out.
This is one reason why, whilst I appreciate and respect Carnaval's deep-seated folk origins, I struggle to enjoy it. Brabant is my home and has been for decades, but I wasn't born and bred here, so the tradition doesn't pulse through my veins.
A combination of rowdy crowds, blaring oompah music and nowhere to sit means we usually either stay at home or leave town until it all quietens down again. You need to have grown up with it to appreciate it. A bit like Morris dancing I guess, and the flat Bitter that in the 1970s nurtured my early interest in ale in my native southeast England.
These days I'm a more contemplative drinker. Moreover, the idea of visiting 10 different bars and drinking exactly the same beer in every one, and out of plastic glasses, no longer fills me with any sense of excitement. Maybe it's me and I've become a boring old fart, something that in my wayward youth I pledged would never happen, but I prefer variety in what I drink and in where I sup it. And I like to be able to hear the person next to me without them having to shout into my ear.
Two weeks ago was one a perfect example of this. Following an in-store book signing we led a pub crawl arranged by the Bierbrigadier shop around some of our favourite beer haunts in Eindhoven.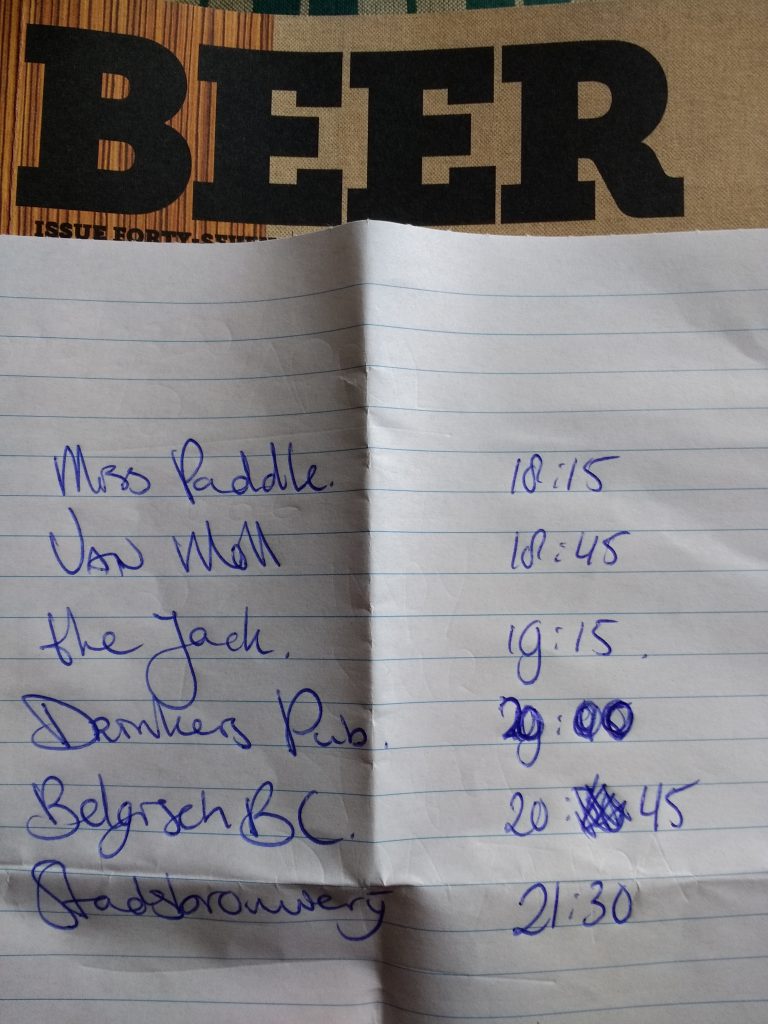 As a group of 15 we headed first to Miss Paddle, which recently celebrated its first birthday. This lovely café specialises in beers from the province of North Brabant, and encourages you to accompany them with flammkuchen freshly baked in-house. As we sampled a tap beer of our choice, landlord Harold explained how his team had transformed former brown café 't Mulderke into this cosy eatery with a lovely view of the Sint-Catharinakerk through a ceiling skylight.
Stop two was the Van Moll brewpub, which also happens to be my local stamkroeg. When it opened in 2013 it was the first working brewery in town for almost 60 years, and it also stocks a mouth-watering array of 150 global craft beers alongside its house range. Co-owner Jaap served us a glass each of the latest version of their own Juice Rocket, a refreshingly fruity New England IPA that had only been released the previous day.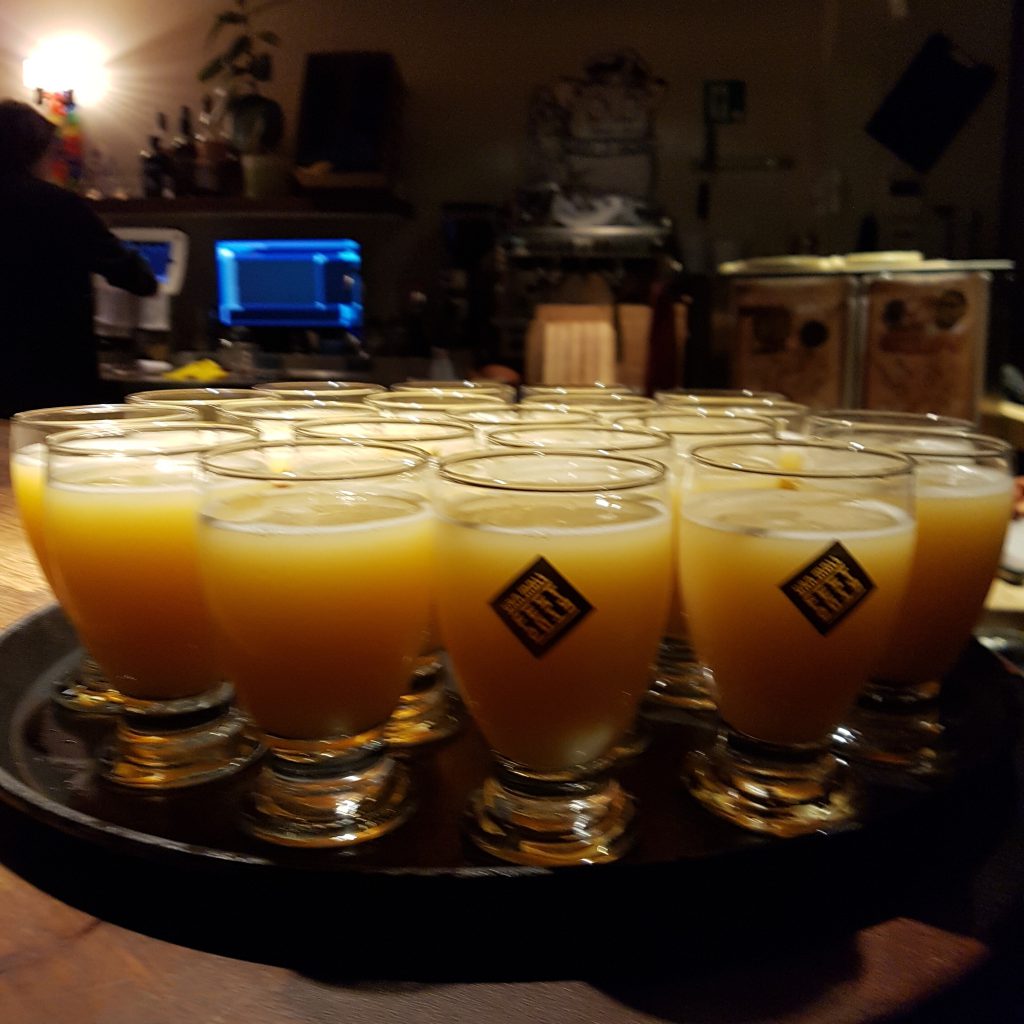 Moving on we headed down the aforementioned Strat to The Jack, to be greeted by landlord Niek and treated to another tap beer of our choice – before he left us to watch his beloved PSV, who were playing that evening. The Jack is a delightfully grungy music café that blends some unashamedly loud rock – often performed by live bands – with a grand choice of Dutch and international ales. In many ways it is reminiscent of the bars that lined the street 30 years ago. Except that back then the number of different beers in each could be counted on two hands. In The Jack you'd need to enlist the helping hands of an entire football team.
Even The Jack's fine list is overshadowed by the range on offer at our next stop. The long row of chiller cabinets lining the back of the bar in Drinkers Pub contains an impressive 1,000 different (mostly craft) brews. What's more astonishing is that such a huge selection gets turned over regularly so it stays in tiptop condition. This is also the home base of nomad brewer Dennis Kort and his Oldkskool beers, some of which are made specially for the café. On this occasion we got to sample his Trippy Hop, a tripel/IPA hybrid made in collaboration with Utrecht brewery Maximus.
Back on the Strat the Belgisch Biercafé is under the same management as Drinkers Pub, but has a wholly different business model. There's a clue in the name: their 200+ beers come from south of the border. As owner Ronald explained, it's good to remember that while the craft revolution is a relatively new concept elsewhere, the Belgians have been brewing wonderful things for centuries. Tonight's offering was a case in point: a darkly contemplative Delirium Red from the Huyghe brewery, which we washed down with a canapé of stoofvlees stew.
Last stop was in Café 100 Watt, the taproom of Stadsbrouwerij Eindhoven, the largest of the town's three working breweries (the third, Het Veem, is out from the centre so had to miss it out on this occasion). As we supped a house tap beer our host here Swen surprised us by offering a tour of the brewery next door, before serving us platters laden with delicious snacks. A great way to end the night.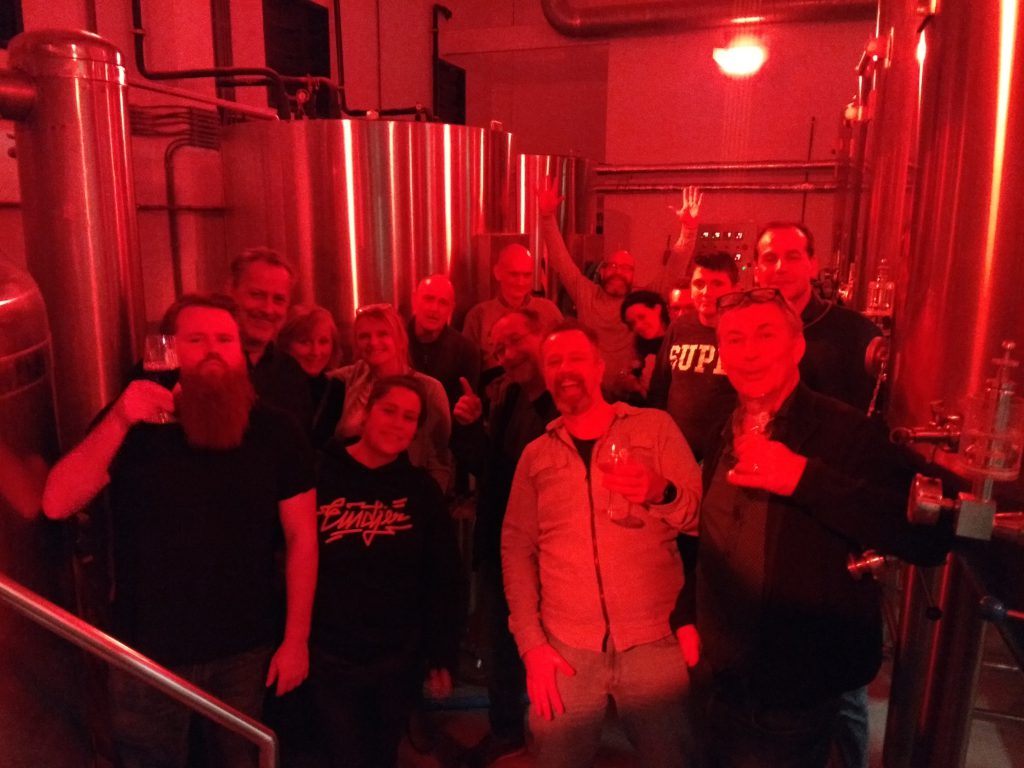 Thanks to Casper of the Bierbrigadier for arranging everything, to all the cafés that welcomed us, and to all the friends old and new who joined us on the crawl and made it such a fun occasion.